If you are an LG Optimus 7 owner, we are happy to tell you that now you have the ability to update your LG Optimus 7 to the newest version of Windows Phone 7 OS, a release known as "Mango". LG Cell Phone News
You don't need to have a developer unlocked LG Optimus 7 smartphone or pre-tampered with in any way, it worked just fine. While there are several ways to achieve this, the easiest is outlined in the steps below: LG Cell Phone Software
Prerequisites: Read the disclaimer if you skipped! Other than that, you just have to have a NoDo-powered LG Optimus 7 Windows Phone and make sure you've got plenty of battery juice left! LG Phone Problem and Solution
Download the tool found at the source link, version 0.2 of the tool with backup ability, right between "Update" and "Notes" (not hot-linking the file)
Unpack the tool to C:
Run the Tool downloaded in step 1 using Administrator rights and let if finish.
Once finished it will start Zune
Check for updates and apply Windows Phone 7 build 7401 update found
Once finished, check for updates again and apply Windows Phone 7 Mango build 7661 update found.
After the Update the Zune software itself will try an update and, while it will say it is up to date, it won't find your phone. You need to manually update Zune to Beta Mango client (build 4.8.2098.0).
You're set!
Caution: To update your LG Optimus 7 by following this instruction at your own risk. No one is responsible for the damage or brick but you. This tool does not backup your phone, so you should backup your phone before upgrade. Other than that, well, we're told you should enjoy. LG Windows Phone 7
Word of note: According to Microsoft, you will have to revert to NoDo before Mango is officially out. Make sure you put the tool you downloaded in step 1 as well as your device backup from C:\PreMangoState in a VERY safe place. LG-Optimus info
To restore NoDo, run the Restore.bat file. Alternatively, the updated version provides a readme.txt file for manual restoring instructions.
For the techies
If you'd rather provision your phone yourself, here's the info you need:
HKEY_LOCAL_MACHINE\Software\Microsoft\Windows\DeviceUpdate\Agent\Protocol
"TestTarget"="15c00000-0003-0001-c0d4-m4a1f005ba11"
HKEY_LOCAL_MACHINE\Software\Microsoft\Windows\DeviceUpdate\Agent\Settings
"GuidOfCategoryToScan"="0fdd4743-cba1-4a2b-af7c-5af9fd93951a"
Source: Windows Phone Hacker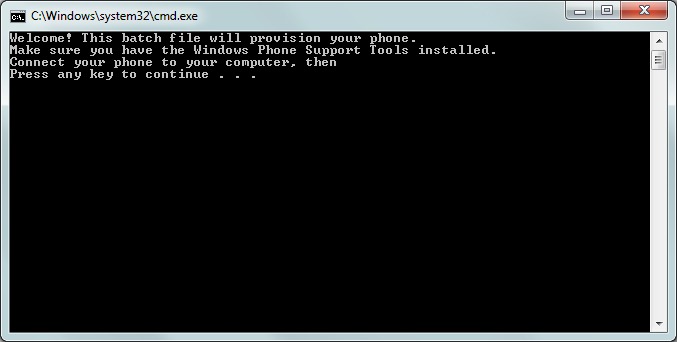 LG Cell Phone – Related Posts